Republican congressman Neal Dunn received his U.S. Chamber of Commerce "Spirit of Enterprise" Award Monday, in a ceremony at the annual Jackson County Chamber of Commerce Legislative Luncheon meeting, which was sponsored by Anderson Columbia, catered by Jackson Hospital, and held at Rivertown Community Church in Marianna.
The award is reserved for legislators who have, by the U.S. Chamber's count, voted in at least 70 percent of available opportunities, in favor of legislation that supports business community interests.
Representatives of the U.S. and Florida Chamber were on hand to witness the award presentation by Clark Thomason Jackson, of the U.S. Chamber's Southeast Regional office.
In accepting the award, Dunn spoke of accomplished and pending federal legislation aimed at helping the area recover from Hurricane Michael, including farmers, timber producers, other businesses, and people in need of affordable housing.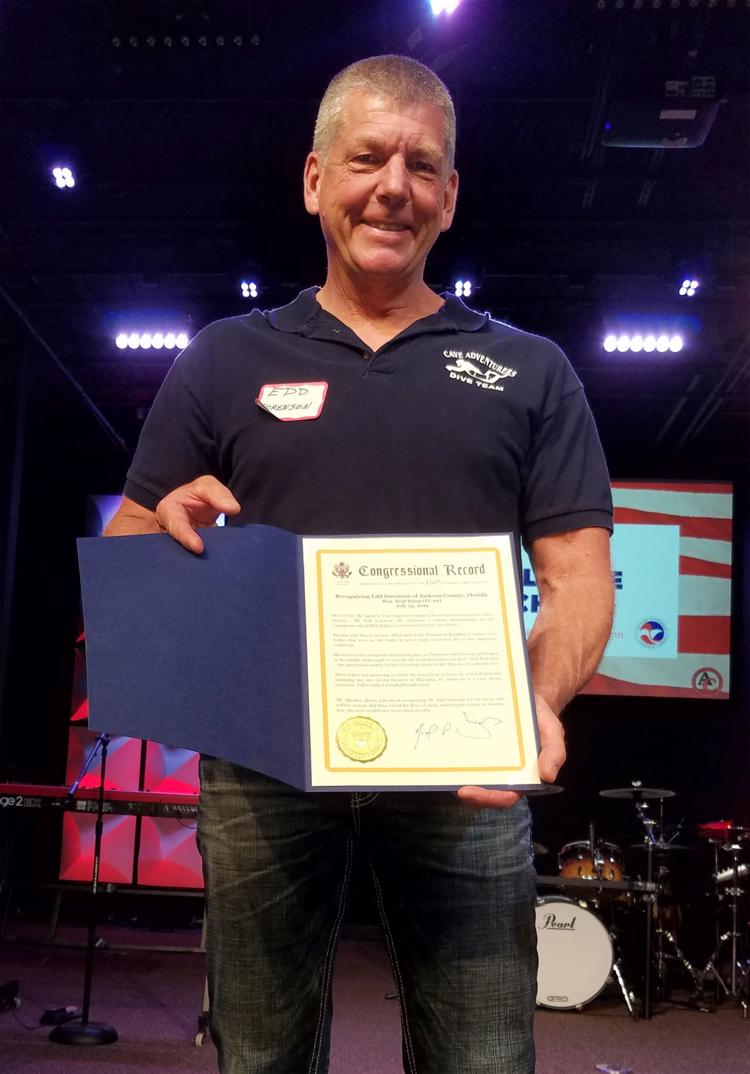 But he also saved some of his time to recognize a local diver who has earned worldwide acclaim for his cave rescues and body recoveries over the years, Edd Sorenson.
Dunn had earlier recognized Sorenson on the House floor in Washington, D.C., and on Monday he presented Sorenson with a page from the Congressional Record associated with that event.
The document, from July 24 of this year, notes Sorenson's "courageous and skillful ability" in rescuing cave divers in peril and retrieving the bodies of those who didn't make it out alive.
It also mentioned two specific recent cases in which Sorenson was called upon. In March of this year, he had recovered two bodies in the Dominican Republic from a dangerous passage after many attempts by others had failed. Most recently, in Tennessee, Sorenson saved the life of fellow diver Josh Bratchley, who is himself well known as a key player in the rescue of a young 12-member soccer team from Thailand last year after they became trapped in a flooded cave.
In accepting the document, Sorenson said he was humbled and touched by the gesture.
The Monday Chamber meeting also featured remarks by state Rep. Brad Drake, and representatives of Senators George Gainer and Marco Rubio.