It took a few hours of digging through a muddy workspace, and some ruined shoes, for archaeologists to conclude Wednesday that what was first believed to be a tunnel near the old arsenal at Florida State Hospital was, in fact, a capped-off ditch, instead.
That means it will not warrant further investigation as a potential archaeological resource or any more digging for that purpose. For safety's sake, appropriate measures will be recommended to repair the area.
Supervising architect Paulette McFadden said Thursday that no artifacts were found in the hole that had opened up while a maintenance crew was investigating a damaged road. When they dug to investigate further, that damaged portion caved in to reveal timbers below that, when disturbed and split by the circumstance, gave off the pungent aroma of fat-lightered pine.
Thinking that it was evidence of a long-covered tunnel, the architects were called in to look further. McFadden and four from her team worked at the site for a few hours Thursday, concluding that the iron ditch pipe had at some point been covered over with a wooden bridge or walkway, which had subsequently been paved over to create a road. The pipe appears to have been placed there in the 1930s.
Although no artifacts were found in the hole, the team did find something nearby that will likely wind up in the old arsenal, which has been renovated into a museum.
While trying to determine the path of what they initially believed was a tunnel, the team followed the general track to a grassy patch of ground. And right around a tree-fall area, they found an old Coca-Cola bottle from the old River Junction bottling plant. That community is at the southern edge of Chattahoochee and was once a bustling community built around the railroad industry.
Such items are valued for their historic significance to the area. Gadsden County is known as a community that early-on embraced the Coca-Cola brand as an investment opportunity, a choice that ultimately created a batch of so-called "Coca-Cola millionaires" in the area.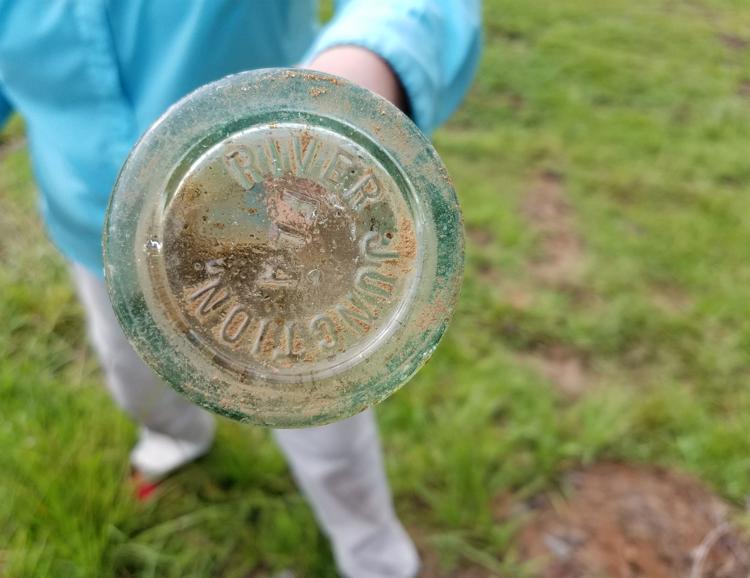 A Florida State Hospital staffer collected the bottle for placement in the museum. A few other pieces were found in the same area it was found, like the cracked remains of a 20th century plate, and an old shoe heel, but those were not deemed of historical significance.