Paramore's Pharmacy has been in business, providing service in the community for more than sixty years (since 1958). The business has a rich history with local people. The rich history is shared by the owners.
In 1926, Willie Earl Paramore was born to a large farm family, who lived in Midland City, Alabama. He had eight sisters and three brothers. As the youngest of the boys, he saw his older brothers drafted to fight in World War II. Willie Earl dropped out of school in the eighth grade to help his family with the farm. At the young age of 19, Willie Earl was also drafted into service, where he would remain for two years.
At that point in the war the United States was preparing to invade Japan, which was anticipated to be a bloody battle. Willie Earl had been trained in bridge building and close combat fighting at Fort Belavoir, Virginia. After deployment from Fort Jackson, South Carolina, Willie Earl had prepared himself to be sent to Japan. However, President Harry Truman ordered the atomic bomb be dropped on Japan, which led to Japan's surrender. When his orders arrived, Willie Earl was sent to LaHarve, France, where he boarded a box car and traveled across Europe. During this trip he witnessed the ruins in many cities. Salzburg, Austria was his home base for a year.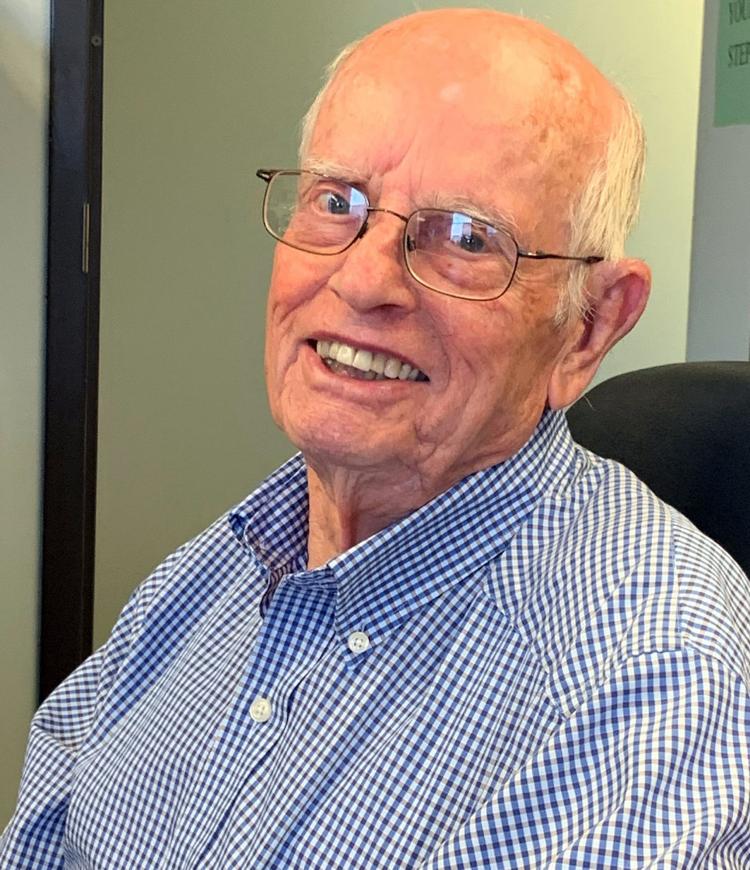 Willie Earl shared that he was able to see some of the country, when he had occasional leave, including the "Eagle's Nest." Fortunately for Willie Earl, he was there after Hitler's death. He never went to any of the concentration camps, but his company took down the plaque in Salzburg, Austria in 1946. Salzburg was about twelve miles from Berchtesgaden, Germany, which was Hitler's hang out.
After World War II was over, the GIs were allowed to buy a book and take an exam to finish their high school education. After purchasing the book and studying for a year under Principal Vaughn, he graduated from high school. Before graduating Willie Earl read a motivational article about how to be a pharmacist, and knew that's what he wanted to do. He first attended Troy State University for three quarters. Then, he transferred to Auburn University, where he earned a Bachelor of Science degree in Pharmacy.
Willie Earl had no former drug store experience. So, he hitchhiked to Meridian, Mississippi to join some other graduates. Two months later he took the Pharmacy Board exam at 'Ole Miss and had a Mississippi Pharmacist License. Willie Earl stayed in Mississippi for two more months.
Meanwhile, Mr. Hightower had sent Willie Earl a telegram, which was not received. So, Mr. J.W. Hightower, Jr. and Sr. went to Dothan to hire him on Thanksgiving Day. "Best job I ever had," Willie Earl explained. Hightower's Drug Store was located where the Salt Block is now. Willie Earl shared that his first prescription filled on the first day was $1.25. Willie Earl worked there for five years.
Mr. Tolliver Davis owned Davis Drugs located near where Acentria is on Market Street, and where the parking lot is today. At that time there were shops all along Market Street. Harry Bell, Sr. had a grocery store on one side of Mr. Davis, and Tee's Grill was on the other side. Willie Earl worked for Mr. Davis for about five years, until Mr. Davis died suddenly. Willie Earl purchased the business from his widow and continued to operate there for about a year.
On Feb. 1, 1957 Willie Earl moved his business to Fifth Avenue. He remained at this location for nearly thirty years. Scott shared a story of how someone made the comment to Willie Earl when he moved to Fifth Avenue, "You move out there and you'll starve to death," referring to his move to Fifth Avenue. "That turned out to be the best move." Willie Earl and his younger brother, Eugene also owned the Medical Arts building on Third Avenue, which at the time was across the street from Jackson Hospital. Eugene ran the Medical Arts building.
While attending Troy in his younger years, Willie Earl met Carrie Woodham, who also came from a large farm family with nine brothers and three sisters. The couple was blessed with three children: Earl Scott, John Arthur and Leigh Ann. During this time Willie Earl purchased a 540 acre farm in Jacob where he planted pine trees and row crop s. At one point he had 125 cows, but later it was all planted in pines. Willie Earl was glad to have harvested 150 acres before the storm. About one third of the remaining pines were lost with Hurricane Michael.
Willie Earl shared a story about a friend of his making some homemade wine with Willie Earl's grapes. A lady customer wanted some of the wine. So Willie Earl spiked the wine with Everclear alcohol and poured it into a four ounce medicine bottle for her. She would come by to pick up her medicine regularly. Later, when the lady's husband died, and she was grieving with some of her lady friends, Willie Earl took her a bottle of the wine mixture. He recalled her saying, "Doc, when you leave, we're going to have some of your alcohol."
Scott Paramore wanted to follow in his father's footsteps. He earned a Master of Science degree from Auburn University and went to work in Tampa for a year before returning to work for his father. In 1985 Scott purchased the business from Willie Earl, and Willie Earl went to work for his son. It wasn't long before Scott had plans drawn up by Donofro & Associates for a new building, which was built in 1987 at the northeast corner of Fifth Avenue and Fourth Street.
Scott shared how one of Dr. Padgett's patients had been a customer at Watson's Drug Store. Doctor Padgett had been treating the man for three or more months. Finally, Willie Earl was consulted, and at that time he explained how the man's wife was putting Syrup of Ipecac in his Whiskey.
Scott continued sharing stories. There was a musical family, who lived near the old hospital. Willie Earl had a horse and buggy and was going for a ride at 10 am on a Saturday morning. The children had just returned from a performance, when Willie Earl offered them a ride. The girls were dressed in antebellum dresses. When they passed a log cabin down the road, one of the little boys asked, "Did Abe Lincoln live there?" Then, they rounded the corner and drove by the store. The Paramore's delivery boy ran into the store startled to tell Scott, "There's an old man and three pretty girls in a horse and buggy!" "I said, 'Don't make fun of them; that's my dad,'" Scott shared.
Scott explained that when he started working as a pharmacist, doctors ordered medications. "Now much is determined by insurance companies," Scott added. "When I first started everyone paid cash and very few people had a problem buying their medications," he continued. "Doctors were always cognizant of financial situations and gave samples to the indigent." He explained that in Marianna all the pharmacist have always been friendly with one another and helped each other.
In February of 2018 Lee Dunaway became the new owner of Paramore's Pharmacy. Willie Earl explained "Lee's mom was raised only two blocks away from me". Lee was born and raised in Marianna. His two great-grandmothers wee Hattie Mae Talley and Thelma McQuagge, who was Dr. McQuagge's mother. His great grandfather William Albert McQuagge owned the first Ford dealership which was once located near where the UPS Marianna Office. He was also the Jackson County Tax Collector. Mr. McQuagge built many homes in Marianna, one of which was moved from the Davis Optometry location. Unfortunately, William Albert died at age 49. His wife, Thelma took over the position of tax collector. Their daughter Lottie, grandmother to Lee, lived about a block away from Paramore's Pharmacy. Lee remembered going to his grandmother's home as a child and walking to Paramore's Pharmacy to buy candy.
He worked for Lucien Watson during high school as a maintenance and delivery guy. After graduating from Marianna High School and Chipola College, Lee earned a degree from the University of Florida. Lee interned for Kelson Drugs, while going to college. During that time he interned for Kelson Drugs. After working for about eight years in Tallahassee, in 2002 Lee and his wife decided to return to Marianna to raise their two children. In 2016 Lee began working at Paramore's Pharmacy and less than two years later purchased the business.
Some of the latest changes in Paramore's Pharmacy include medicine synchronization. Lee explained that this is a way to schedule all of a patient's medicines for one pick-up time each month. It prevents customers from making multiple trips. Since Hurricane Michael, the store has been remodeled with wood floors. They have changed the gift area around and have holiday gifts with free gift wrapping.
Lee shared, "You might see Willie Earl on a jet ski at Compass Lake." He remains very active at 93 years old. Lee recalled, "Willie Earl going to the pharmacy and asking Scott for a chainsaw." He only recently let his pharmacist license lapse, and he still holds a Florida Certified Burner card that doesn't expire until 2022.
What a great business to hold on to in Marianna! Visit Paramore's Pharmacy at 4315 Fifth Avenue, 8 a.m. to 6 p.m. Monday-Friday, and 8 a.m. to 2 p.m. Saturdays. Lee Dunaway also answers nonemergency medication questions by email after hours at paramoresrx@gmail.com. Visit the City of Marianna's website at http://www.mariannafl.city/335/New-Businesses-and-Other-Community-News to learn more about new businesses. Shop locally and support Marianna businesses.
Kay Dennis, MBA, MPA, A.I.C.P., is the director of Municipal Development for the City of Marianna.