With 155 adult and student entries, the 2019 National Peanut Festival recipe contest did not disappoint with the various uses of peanuts and peanut products.
Alas, there could only be two grand-prize winners among the six competition classes: cakes, candies, cookies/bars, pies, cupcakes/cakepops and miscellaneous.
This year, both the adult and student grand prizes went to cupcakes, which also won first-place ribbons for the cupcakes/cakepops, categories in the adult and student divisions.
Deana Workman of Enterprise won the adult division for her Confession Cupcakes. The recipe combines dark cocoa, espresso powder, cold coffee and melted semisweet chocolate, Reese's miniature peanut-butter cups, salted peanuts, and honey-roasted peanut butter for a sinful treat.
In the student division, the grand prize went to Nicole Whatley of Coffee Springs with her Coley's P'Nutty Cupcakes. Along with peanut-butter frosting, chocolate drizzle and a piece of peanut brittle, Whatley created an edible road display for her cupcakes to go with this year's festival theme — "The Ultimate Roadside Attraction."
Confession Cupcakes
By Deana Workman of Enterprise
Grand prize, adult division; first place cupcakes/cakepops, adult division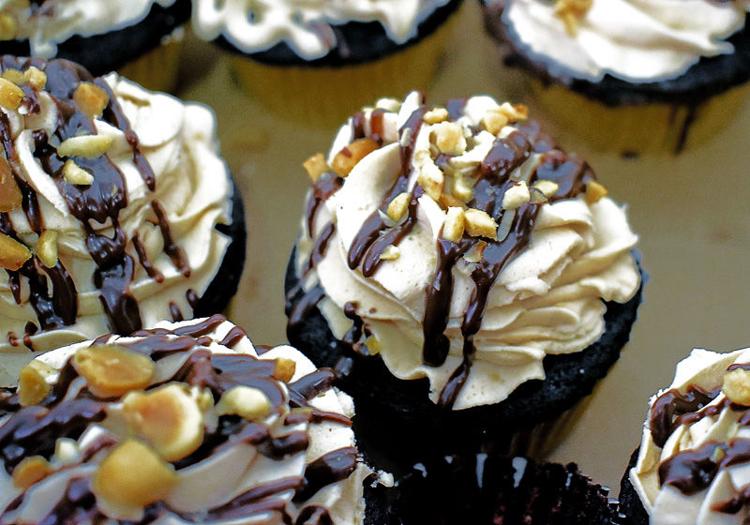 Ingredients
For the cupcakes:
2 ¼ cups flour
¾ cup dark cocoa
1 teaspoon salt
1 teaspoon baking powder
2 teaspoons baking soda
2 cups sugar
2 eggs
¾ cup cold coffee
1 teaspoon espresso powder
1 teaspoon vanilla
½ cup peanut oil
4 ounces semisweet chocolate, melted
1 cup buttermilk, room temperature
For the frosting:
1 cup butter
1 teaspoon vanilla
¾ cup honey-roasted peanut butter
1 teaspoon salt
4 to 5 cups confectioners' sugar
3 tablespoons heavy cream
For the ganache:
¼ cup heavy cream
½ cup chocolate chips
½ cup peanut-butter chips
Other:
Peanut-butter chips
24 miniature Reese's peanut- butter cups
Chopped salted peanuts
Instructions
Preheat oven to 350 F. Using a 24-slot cupcake pan, line the slots with paper liners. Mix flour, cocoa, salt, baking powder and baking soda. In a separate bowl, mix the sugar, eggs, coffee, espresso powder, vanilla, peanut oil and melted chocolate. Mix until combined and smooth. Add the flour mixture in 2 parts alternately with the buttermilk. Mix until combined. Spoon into prepared cupcake slots, filling each half full.
Bake for 15-17 minutes.
Cream butter for frosting until light and fluffy. Add vanilla, honey-roasted peanut butter and salt. Slowly add confectioners' sugar ½ cup at a time. Add heavy cream to desired consistency.
Press 1 miniature Reese's cup into warm cupcake. Top with 5 peanut-butter chips.
Warm heavy cream for the ganache in microwave for 1 minute. Add the chocolate chips and peanut-butter chips. Stir until smooth. Pour a small amount of the ganache over the 5 peanut-butter chips to level the top of each cupcake.
Frost cupcakes, drizzle with remaining ganache and add more chopped peanuts to top.
Coley's P'Nutty Cupcakes
By Nicole Whatley of Coffee Springs
Grand prize, student division; first place, student cupcakes/cakepops.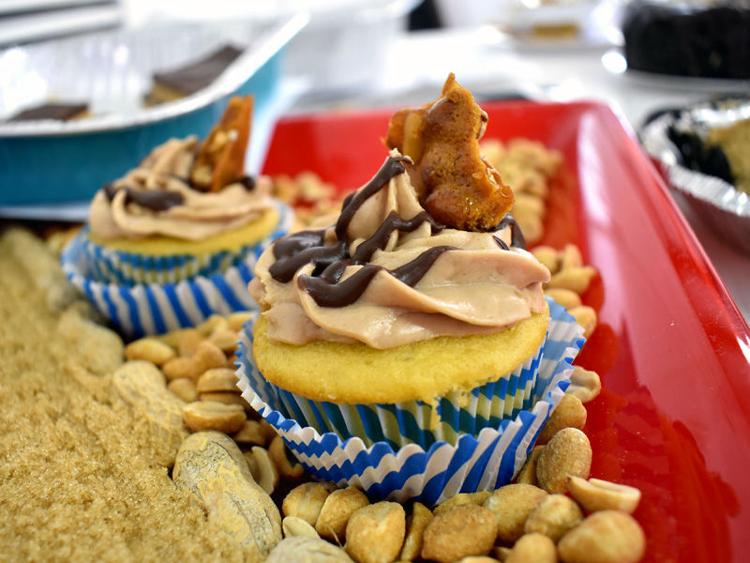 Ingredients & Instructions
Cupcakes:
Yellow cake mix
3 large eggs
1/3 cup peanut oil
1 cup whole buttermilk
2 teaspoons peanut butter
1 teaspoon vanilla
Bake at 325 F for 15 minutes.
Filling:
2 teaspoons peanut butter
½ teaspoon powder cocoa
¼ cup confectioners' sugar
Half & Half, enough to get filling to pour
Blend ingredients together. Punch holes in top of cupcakes and pour filling in holes.
Frosting:
3 cups sifted confectionesr' sugar
1 stick butter
1 ½ teaspoons cocoa
2 teaspoons peanut butter
4 ounces cream cheese, softened
1 teaspoon vanilla
1/3 cup parched peanuts, chopped
Mix all ingredients together and pipe onto cupcakes.
Gran's Peanut Brittle:
1 cup sugar
½ cup white Karo syrup
1 ½ cups raw peanuts
1/8 teaspoon salt
Mix ingredients together. Microwave 7 minutes, then add 1 teaspoon each of butter and vanilla. Microwave another 90 seconds. Remove from microwave, add 1 teaspoon baking soda and stir until light and foamy. Quickly pour on greased cookie sheet. Cool and break into pieces. Top each cupcake with a piece of brittle.
Drizzle:
¾ cup semisweet chocolate chips
1 tablespoon butter
1 tablespoon corn syrup
¼ teaspoon vanilla
Half & Half
Melt chocolate chips and butter together in microwave. Add corn syrup and vanilla. Stir in Half-and-Half to desired drizzle consistency. Drizzle over cupcakes.