With 155 adult and student entries, the 2019 National Peanut Festival recipe contest did not disappoint with the various uses of peanuts and peanut products. Nutter Butters, Oreos and peanuts went into this year's first-place winning cakes.
Nutter Butter Peanut Butter Cake
By Pam Bland of Columbia
First place cakes, adult division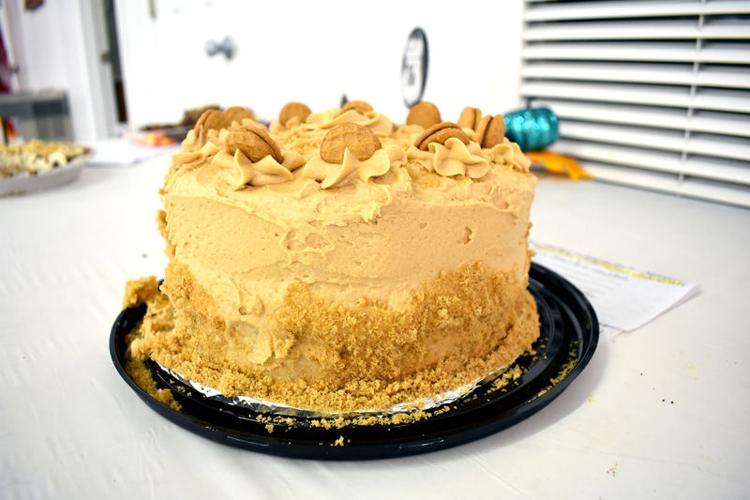 Ingredients
Cake:
½ cup creamy peanut butter
½ cup butter, softened
4 eggs
1 box Betty Crocker Butter Recipe cake mix
2/3 cup water
½ cup finely chopped Nutter Butter cookies
Frosting:
1 cup peanut butter
½ cup butter, softened
4 cups confectioner's sugar
1/3 cup heavy cream
Instructions
Preheat oven to 325 F. Grease and flour two 9-inch cake pans.
Combine ½ cup peanut butter and ½ cup butter. Cream until light and fluffy. Add eggs one at a time, mixing well. Add cake mix alternately with water. Stir until just combined. Pour batter in prepared pans. Bake for 25 minutes or until cake tests as done. Allow cake to cool 10 minutes in pan, then turn out on rack to cool. Assemble and frost cake.
To make frosting, combine 1 cup peanut butter and ½ cup butter. Cream together until light and fluffy. Add confectioner's sugar. Mix heavy cream into frosting to a spreading consistency. Apply to cool cake. Press cookie crumbs on side of cake.
Peanut Butter Oreo Cheesecake
By Emily Robbins of Andalusia
First place cakes, student division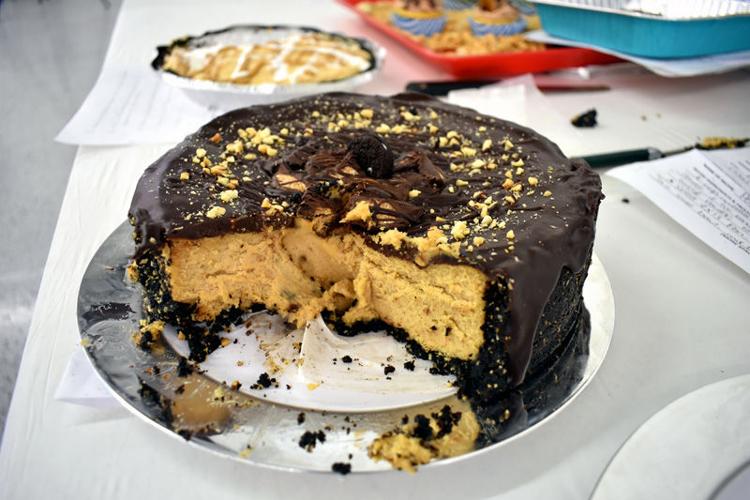 Ingredients & Instructions
Oreo crust:
3 cups Oreo cookies, crushed
2/3 cup unsalted dry roasted peanuts
2/3 cup butter, melted
Crush Oreos and peanuts in blender or food processor until a crumbly mixture forms. Mix with melted butter and press into bottom of a 9-inch springform pan, going up the sides about an inch. Chill crust at least 10 minutes.
Cheesecake filling:
24 ounces cream cheese
1 cup granulated sugar
2 teaspoons vanilla extract
1 cup creamy peanut butter
1/3 cup heavy cream
3 eggs
For best results, let ingredients sit out until room temperature before mixing.
Combine cream cheese, sugar and vanilla with electric mixer on low speed until combined. Add peanut butter and heavy cream, mixing until smooth. Add eggs one at a time, mixing well after each. Pour into chilled crust.
Bake at 350 F for 45 minutes. Let cool completely then pour chocolate ganache on top.
Chocolate ganache and topping:
1 cup heavy cream
1 cup dark chocolate chips
Chopped peanuts
Miniature Reese's peanut butter cups
Heat heavy cream in a small saucepan just until it comes to a low boil. Pour over chocolate chips and whisk until smooth. Let ganache cool slightly, then pour over cooled cheesecake. Top with peanut butter cups and peanuts.
Let cool in fridge until ganache has hardened.