With 155 adult and student entries, the 2019 National Peanut Festival contest did not disappoint with the various uses of peanuts and peanut products. Chocolate and peanut butter were the winning combination for the first-place winning candy recipes.
Rickey's Chocolate Covered Peanut Butter Balls
By Rickey D. Welch of Ashford
First place candies, adult division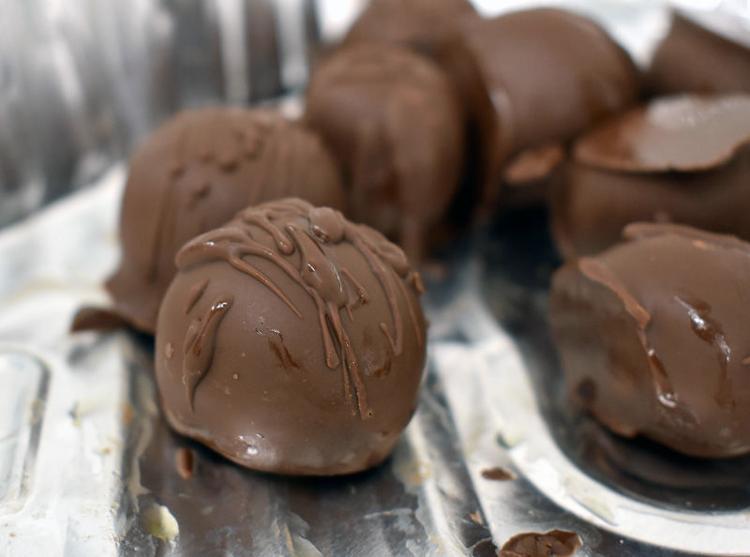 Ingredients
2 sticks butter, melted
1 teaspoon vanilla extract
1 ½ cups creamy peanut butter
1 cup graham cracker crumbs
1 pound confectioner's sugar
Chocolate almond bark
Instructions
Mix all ingredients and form into 1-inch balls. Chill in freezer for 1 hour. Using a toothpick, dip balls into melted chocolate bark. Place on waxed paper to cool. You can refrigerate to speed up hardening of bark.
MeMe's Homemade Reese's Cups
By August Kate Henderson of Headland
First place candies, student division
Ingredients
1 box Domino's confectioner's sugar
1 ½ cups graham cracker crumbs
1 cup Jiff peanut butter
1 cup of Land-O-Lakes Margarine, melted
6 squares of Great Value chocolate almond bark
Instructions
Combine confectioner's sugar, graham cracker crumbs, peanut butter and melted margarine in a large mixing bowl. Using a dough hook on an electric mixer, mix ingredients until smooth.
Place mixture on a 10-by-15 cookie sheet. Use a rolling pin to smooth mixture out evenly in the cookie sheet.
Place almond bark squares in a glass bowl and microwave for 30 seconds. Let bowl sit for 3 to 5 minutes then stir almond bark until smooth. Pour melted almond bark over mixture in cookie sheet and smooth evenly.
Let sit for 2 hours. Cut into squares and serve. Store in an airtight container with plastic wrap between layers.