With 155 adult and student entries, the 2019 National Peanut Festival contest did not disappoint with the various uses of peanuts and peanut products. Brownies and whoopie pies took the first-place ribbons in this year's category for cookies and bars.
Peanut Butter Brownies
By Cameron Dowling of Hartford
First place cookies/bars, student division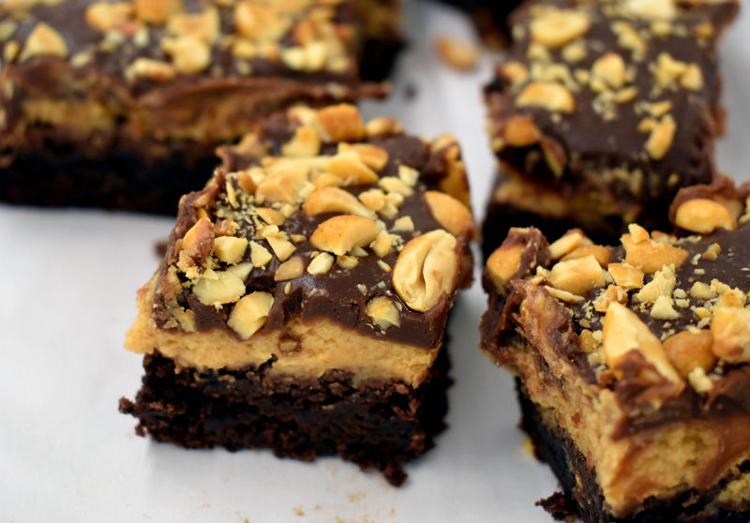 Ingredients
Brownie layer:
1 ½ cups flour
½ cup cocoa powder
1 teaspoon baking powder
½ teaspoon salt
1 cup melted butter
2 cups sugar
1 teaspoon vanilla
4 eggs
Peanut butter middle layer:
1 cup peanut butter
½ cup powdered sugar
4 ounces cream cheese
Chocolate peanut butter top layer:
1 cup heavy cream
5 ounces semi-sweet chocolate chips
5 ounces peanut butter chips
Instructions
Preheat oven to 350 F. Spray coat 9-by-13 pan.
Mix flour, cocoa, baking powder and salt in a small bowl. Mix the melted butter and sugar into the bowl. Add vanilla and then eggs one at a time. Combine mixtures and whisk until blended. Pour into pan. Bake 25-30 minutes. Set aside and let cool.
Mix middle layer ingredients and pour the peanut butter middle layer over the brownie layer.
For the top layer, heat the heavy cream for 2 minutes. Pour over chocolate and peanut butter chips. Let sit 2 minutes then whisk until smooth.
Pour top chocolate peanut butter layer over the other two layers.
If you choose, add chopped peanuts to top.
Chocolate Peanut Butter Whoopie Pies
By Hunter Gulledge
First place cookies/bars, adult division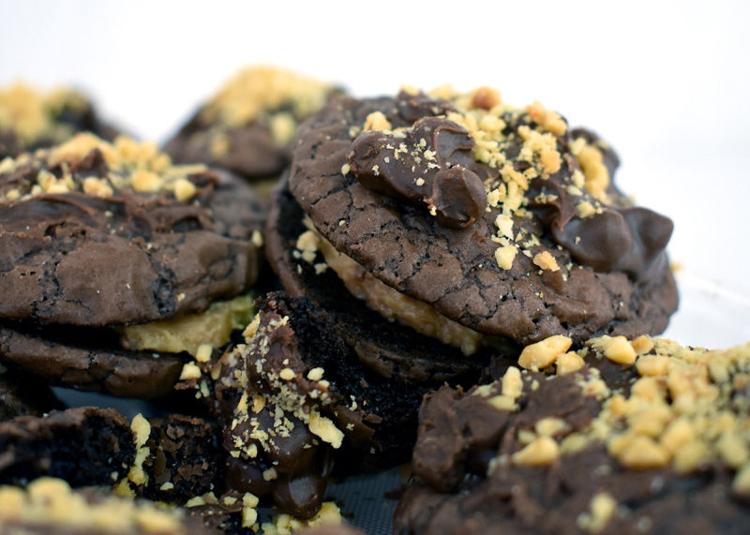 Ingredients
For Cookies:
1 box brownie mix (Betty Crocker Triple Chocolate)
¼ cup vegetable oil
2 eggs
1 tablespoon water
For filling:
1 cup cold milk
1, 3.4 ounce Jello White Chocolate Pudding
½ cup peanut butter, melted
6 mini Reese's peanut butter cups, crushed
For ganache:
2 tablespoons heavy whipping cream
¼ cup dark chocolate chips
1 tablespoon peanut butter, smooth
½ cup crushed roasted peanuts
Instructions
For cookies: Preheat oven to 350 F. Prepare baking sheet with cooking spray. Set aside. In medium bowl, empty contents of boxed brownie mix and add oil, eggs and water. Mix by hand until dough becomes soft. Drop by spoonfuls on prepared baking sheet, about 1 to 1 ½ inch diameter. Bake for 9-11 minutes. Cool completely on wire racks.
For filling: Whip milk and pudding together until it thickens. Add peanut butter until blended and creamy. Add crushed Reese's peanut butter cups to pudding mixture. Pair up cookies by shape and size. Scoop filling onto smooth side of one cookie (bottom) and sandwich cookies together with flat sides facing each other. Press gently to help filling reach the edges.
For ganache: Microwave heavy cream for 30 seconds or until it starts to boil. Pour over chocolate chips, add peanut butter and whisk until smooth. Cover bowl with Saran wrap for 5-7 minutes. Whisk until smooth and cool slightly. Pour thin coat on top of whoopie pies and garnish with crushed roasted peanuts.