With 155 adult and student entries, the 2019 National Peanut Festival contest did not disappoint with the various uses of peanuts and peanut products. A peanut and pumpkin inspired dessert hummus and a caramel cheesecake took the first-place miscellaneous ribbons in this year's recipe contest.
Peanut Pumpkin Pie Dessert Hummus
By Emily Robbins of Andalusia
First place miscellaneous, student division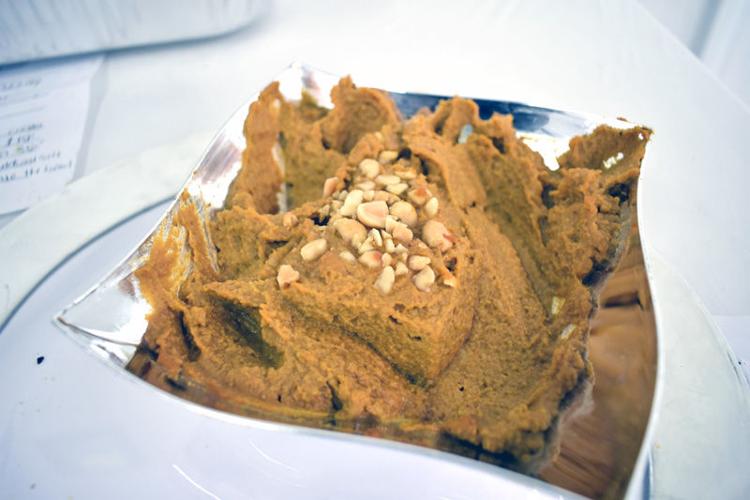 Ingredients
1 cup shelled boiled peanuts
¼ cup peanut butter
1/3 cup granulated sugar
1 ¼ cups pumpkin puree
2 teaspoons vanilla extract
2 1/3 teaspoons pumpkin pie spice
Chopped peanuts for garnish - optional
Instructions
Rinse and drain boiled peanuts. Blend all ingredients in a blender or food processor until smooth. Garnish with chopped peanuts. Enjoy with your favorite dipper of choice or by itself.
Peanut Butter Caramallow Cheesecake
By Donna Turner of Ozark
First place miscellaneous, adult division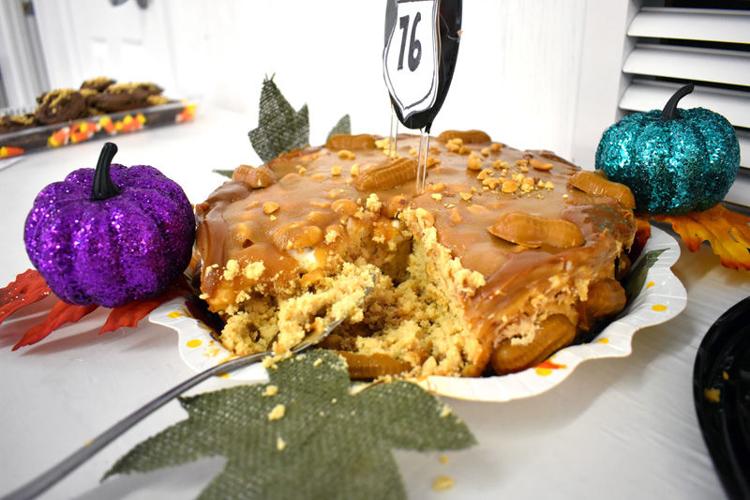 Ingredients
Crust:
32 Nutter Butter cookies (16-ounce package)
½ cup melted butter
Filling:
3 packages of 8-ounce cream cheese, softened
1 package of 10-ounce peanut butter chips, melted
1, 14-ounce can sweetened condensed milk
1 teaspoon vanilla
3 eggs, lightly beaten
1 ½ cups mini marshmallows
1 cup creamy peanut butter
½ cup light corn syrup
1 tablespoon butter
1 teaspoon vanilla
1 cup dry roasted peanuts, coarsely chopped
1 can Nestle La Lechera milk-based caramel
Instructions
Preheat oven to 325 F. Place a greased springform pan on top of a double layer of heavy duty aluminum foil. Wrap foil securely around bottom and up sides of pan to prevent leaks. Place Nutter Butter cookies in a food processor and blend until finely crushed. Transfer crushed cookies to a bowl and stir in melted butter. Press cookie crust into prepared springform pan.
In a large bowl, beat cream cheese until smooth and mix in melted peanut butter chips, sweetened condensed milk and vanilla. Add eggs. Beat on low speed until blended. Pour into crust. Place springform pan into larger baking pan and fill larger baking pan with water so that the cheesecake will bake in a water bath. Bake for 45-55 minutes or until center is set. Top with marshmallows and bake 2-3 minutes until marshmallows are softened. Remove springform pan from water and cool on wire rack. Loosen sides from pan. Remove from foil. Cool for 1 hour.
In a small saucepan, combine peanut butter, corn syrup and butter. Cook and stir on low heat until blended. Remove from heat and stir in vanilla. Sprinkle 1/2 cup of peanuts onto cheesecake, top with peanut butter mixture. Sprinkle remaining peanuts over cheesecake. Pour Nestle La Lechera caramel over top and around the edge of cheesecake.