LYNCHBURG, Va. - Renee Bach first set foot in Uganda in 2007, when she was 18.
Two years later the Bedford native had launched the nonprofit, Serving His Children, which initially started as a feeding program for children in rural Uganda.
Soon, the religious nonprofit's efforts expanded to focus on malnourished children and SHC grew exponentially. Ten years and thousands of children later, SHC has 21 paid workers now — 12 of them medical —compared to five support staffers in 2009.
But with the growth has come controversy. Bach flew back to Virginia last fall and fear has kept her from returning to Uganda, according to family members.
She is facing a lawsuit in Ugandan court that accuses her of operating an illegal medical facility and holds her responsible for the deaths of hundreds of children.
Bach, who told The News & Advance she has stepped down as the nonprofit's executive director and works remotely as a volunteer, vehemently denies the accusations and has mounted a detailed defense in hundreds of pages of court documents.
Social media posts and online articles on Bach and the lawsuit describe her "experimenting" on children and "playing doctor." Her mother, Lauri Bach, said as such posts and articles gain traction worldwide, their family no longer feels secure on the Bedford County farm they have long called home, having installed a gate in their driveway to ward off cameras and any unwanted visitors.
"We fear that our daughter ... will be at risk of ridicule and hatred for years to come," she wrote in a statement to The News & Advance.
***
"When we opened SHC, we had no idea of the huge and largely unmet need for nutritional care, therefore, we did not anticipate such rapid growth."
Those were Renee Bach's words in a letter she wrote in May 2015, when she was still the nonprofit's director.
A study SHC conducted two years later surveyed more than 2,400 children across the Mayuge District in Eastern Uganda, and found 25.7% of those children were underweight, 32.8% had stunted growth and 18.7% suffered from acute malnutrition.
Those numbers differ slightly from the World Health Organization's 2011 measurements for Uganda as a country, which report 14.1% of children younger than 5 years old are underweight and 33.7% have stunted growth.
David Gibbs III, president of The National Center for Life and Liberty, a nonprofit that provides legal services in Christian religious contexts, is representing Bach and SHC. In a statement sent to The News & Advance and other news outlets, Gibbs said the lawsuit is "entirely without merit, and will vigorously be answered in court."
"Many of the children cared for by Serving His Children are days away from death when they arrive at the health facility with their guardian," he wrote.
According to Bach and Gibbs, a total of 119 children died at SHC between 2010 and December 2018. Reports from SHC indicate at least 25 of them died within the first 48 hours of arriving at the facility. Between 2010 and 2018, SHC treated 3,596 patients, making for a fatality rate of 3.3%, Bach told The News & Advance in an email.
Those figures are in stark contrast to an affidavit from a former driver for SHC, who said he transported anywhere between five and 10 bodies of children back to their families for burial every week. Along with the affidavits of two mothers and other past SHC staffers, his statements are part of the lawsuit, filed by The Women's Probono Initiative and the mothers of two children who died. The driver is one of several former SHC employees, terminated during a 2017 shift in SHC's operations, who provided statements for the lawsuit.
In Uganda, Bach said families report deaths to local district leaders, while hospitals and health facilities include deaths in monthly reports. SHC gave family members death summary reports when a child died and, once it was registered as a health facility in the Jinja district of Uganda, recorded monthly mortality rates, she said.
In her response to the lawsuit, Bach said "any deaths that occurred at the Centre were normal as a result of severe acute malnutrition at advanced stages or underlying medical conditions complicated by malnutrition."
***
Central to the lawsuit are claims Bach represented herself as a medical professional, with frequent references to people calling her the "white doctor." Witnesses in the lawsuit said they saw Bach wearing a white lab coat and stethoscope and were under the impression she was a health worker.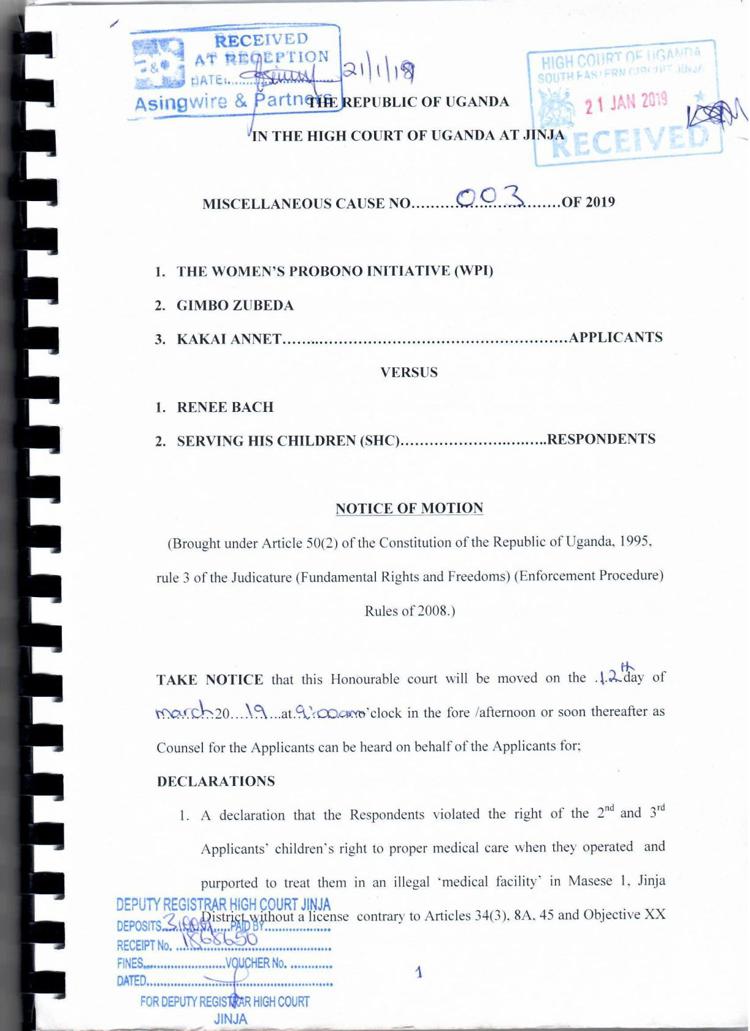 In her response, Bach said she never referred to herself as a health professional and denied it when asked. She said she often wore a stethoscope but never wore a doctor's or nurse's uniform.
Blog posts penned by Bach from 2011 to 2013 — which have since been deleted — describe cases of children in poor condition where she would hook the child up to oxygen, take their temperature, hook them up to an IV, test for diseases and help start blood transfusions.
Bach said in her affidavits she attended a five-day Wilderness First Aid class in October 2009 but "did not view the training as a substitute for a medical degree."
By taking that class, Bach said she learned to place IV catheters but did so "under supervision of qualified and licensed medical professionals." She framed her clinical work at SHC as assistance to nurses and other medical professionals.
In a May 2015 letter, the three-member board of directors for SHC said Bach "was planted in a sea of needs" in 2009, only providing medical care on her own in "emergency situations or where there was no immediate help available." SHC spent $54,000 for "fees for outside medical treatments in the first 3 years," they wrote.
Another May 2015 letter from Bach, addressing concerns raised about SHC, stated she wanted "to own truth and take responsibility."
"Over the years, I have unfortunately been put in situations where I felt it necessary to act outside of my qualifications," she wrote. "…I can see and do not deny my past mistakes as a leader and recognize that were I to have chosen differently, I may not have overstepped my bounds in such a manner. It is clear to me that as the Director of any ministry it's my responsibility to ensure that qualified personal[sic] are operating in every sector."
According a 2015 operations report by SHC and Bach's response to the lawsuit, the organization hired its first nurse on a part-time basis in 2010 and "all advanced medical care was provided at local hospitals."
Bach hired three full time nurses in 2011, a part-time doctor at the end that year. Medical staff additions continued in subsequent years. By March 2015, SHC had one full-time doctor on staff, three rounding doctors and seven nurses. All of those medical personnel, according to SHC's report, are Ugandan.
***
Though the lawsuit, filed in January, specifically claims SHC violated the Ugandan Constitution by causing "the death of hundreds of children," it focuses on the deaths of two children taken to the facility in July 2013 and July 2018.
The lawsuit's plaintiffs are the two children's mothers and The Women's Probono Initiative, an organization promoting civil rights for Ugandan women. They're asking for a court order for Bach and SHC to cease operations and "an award of general damages" to the two women "for violation of their human rights" stemming from the deaths of their children.
One woman sent her three-year-old son Twalali to SHC in July 2013 with his grandmother after being told he was malnourished "and needed to be fed on nutritious food which I could not afford," she said in an affidavit for the lawsuit.
Three days later, she was called and notified of his death. In the affidavit, she said she was never given an explanation and believed SHC "may have done something unprofessional that led to the death of my child."
Bach, who said she was in the U.S. during the time Twalali was at SHC, told The News & Advance in an email SHC gave a death summary report to Twalali's grandmother, who accompanied him to the facility.
He died of severe acute malnutrition, combined with severe pneumonia and malaria, according to Bach. His mother never visited the facility or contacted SHC staff for an explanation, Bach wrote in a response to the lawsuit. In an accompanying affidavit responding to the lawsuit, SHC's head nurse said Twalali was treated by her, three other nurses and a clinical officer and "was handled professionally during his stay at the facility."
The other woman described taking her one-year-old son Elijah to SHC between visits to different medical centers in her affidavit. She said her son was diagnosed with tuberculosis at one medical center in July 2018 and taken to SHC afterward, where Bach spent one hour with him in a room before bringing him back and telling his mother to return with him the next day.
According to Bach, Elijah's mother took him to the health center SHC works out of and a government doctor there determined he had tuberculosis, which the center isn't licensed to treat.
"The doctor encouraged her to take the child to a health facility near her home where he could receive the necessary treatment," she wrote.
Elijah died after visiting two more facilities, his mother wrote in her affidavit, but it's unclear how much time elapsed between her visit to SHC and his death. Regardless, she said she "strongly believe[s] that [SHC's] employees did something to my child that led to his death."
***
The lawsuit frequently refers to a 2015 shuttering of SHC by Ugandan officials.
According to an emailed statement from Bach to The News & Advance, a group of Americans told Ugandan health officials in 2015 that SHC was running an "illegally operated health facility with no medical staff" where children were dying. When a health officer conducted an inspection, she said the inspection found "three minor areas that were not in compliance" and officials told Bach she'd have to close the facility within two hours or face arrest.
A health inspection document from 2015 states SHC didn't have a license for that year, there were "very sick" children at the facility who needed to be referred to a "higher center" and there were children with tuberculosis among other children.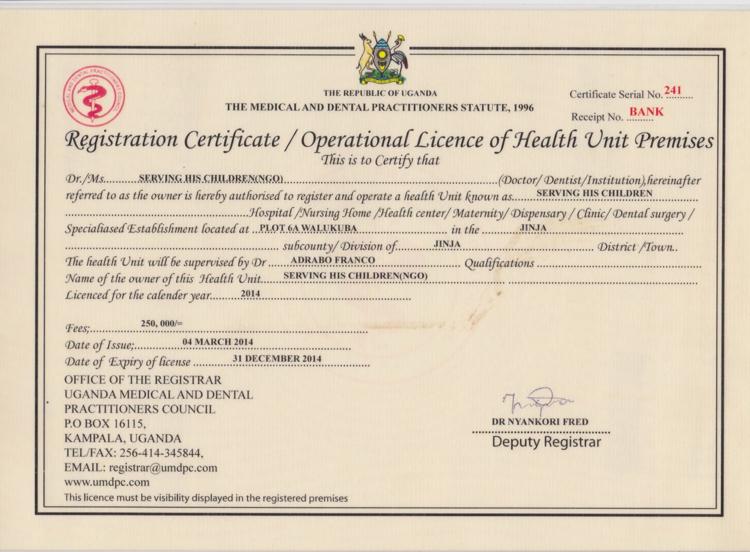 Bach said that at the time of the inspection, SHC had a license that was expiring soon. A scanned copy of the license obtained by The News & Advance shows that SHC was authorized to operate a health unit from March 2014 through the end of the year. In calling Uganda's regulatory office, Bach said she learned the license should've been valid for a full calendar year — through March 2015, when the inspection occurred.
She said SHC wasn't required to take part in the government referral system to send children to those "higher facilities" and that in Uganda, it's "considered acceptable practice" to co-mingle children with and without tuberculosis if they're younger than 8 years old.
Although SHC received approval to reopen its programs soon after it closed, Bach said it remained closed for a few weeks to meet with government officials "to be cleared for operations." Following that, she said SHC focused on lending food and supplies to a government hospital and contributing medical workers to a government health center.
In a March 2017 letter, SHC Vice President Nancy Powell said the organization had "taken steps to ensure greater oversight" following "the events of the past two years."
She said Bach had stepped down from SHC's board, stepped down as executive director and was a programs manager for non-medical programming in Uganda.
Further, Powell said SHC would be helping to open and run an inpatient malnutrition rehabilitation center at a government-run health care center in Uganda after discussions with its senior medical superintendent. That program, she wrote, would follow Ugandan law and healthcare guidelines from Unicef and the World Health Organization.
***
A sizeable component of the claims against Bach and SHC are rooted in race.
In her affidavit, lawyer and Women's Probono Initiative officer Beatrice Kayaga said SHC's work mirrors a "belief that any white person irrespective of their academic status of training and social economic standing can offer aid to poor black minorities."
That language echoes words from members of Ugandan activist group NoWhiteSaviors, which has repeatedly called for action against Bach and SHC on social media.
Fundraising by the group helped to pay for the legal costs of the lawsuit and activists with NoWhiteSaviors helped to identify witnesses, according to Kwagala.
Kelsey Nielsen and Olivia Alaso, the co-founders of NoWhiteSaviors, told The News & Advance in an email they first became aware of SHC in 2014 and confirmed they connected the Women's Probono Initiative with funding for the lawsuit.
"It should not have taken the organization being shut down in 2015 for them to realize they needed to partner with a properly licensed medical facility," they wrote, further saying that none of the children who died at the facility before the 2015 shuttering should've been at SHC in the first place.
In Bach's response to the lawsuit, she said the "white savior industrial complex" Kayaga references is "not embodied in the objectives or values" of SHC.
***
Having returned to Virginia, Bach is working remotely as a volunteer "in an advisory role," her mother said.
"SHC is currently totally led and run by a team of qualified Ugandans," Bach wrote. "The acting interim director is a licensed Ugandan medical doctor."
Lauri Bach wrote that her daughter has been helping with fundraising efforts and hoped for an end to "the extreme social media bullying" facing her daughter. Comments online have contained threats and have created "a culture of violence" around her daughter.
"The lawsuit against Renee and Serving His Children has taken a tremendous amount of work and coordination between my family, our Uganda lawyer and our team on the ground," she wrote in a statement to The News & Advance. "… Although we feel confident in the weight of our evidence in court, the court of public opinion fueled by social media with no basis to prove the truth has been an entirely different matter."
The case is scheduled to be heard by a Ugandan judge in January, according to Gibbs.